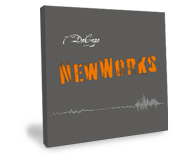 NewWorks is the DaCapo Chamber Choir's third recording.  With this recording, we feature choral compositions of ten of Canada's current composers. All compositions were written in the second decade of this century and premiered by the choir, and most were winners or honourable mention submissions in DaCapo's annual NewWorks choral composition competition.
Read The Whole Note review here…"Canadian choral music shines thanks to DaCapo!"
Purchasing NewWorks
Our NewWorks recording is available to purchase through all major online music vendors, including iTunes, Spotify, Google Play, and more.  Simply search "DaCapo NewWorks".
You can also order a CD via PayPal.
Track Listing
(click on the song title to listen to a portion of the piece)
Singers on the Recording
Soprano
Laura Enns
Sara Fretz
Maria Geleynse
Sara Martin
Sarah Pearson
Janelle Santi
Caroline Schmidt
Hannah Swiderski
Alto
Theresa Bauer
Janice Maust Hedrick
Alex Meinzinger
Susan Schwartzentruber
Laura Shantz
Jennie Wiebe
Angela Zhang
Tenor
Brian Black
Mike Colla
Curtis Dueck
Chris Everett
Robert Gooding-Townsend
Jerry Liu
Stephen Preece
Joel VanderZee
Travis Wiart
Bass
Joel Becker
Donny Cheung
Daniel Cockayne
Michael Hook
Daniel King
Phillip Klassen-Rempel
Luc Larocque
Michael Lepock
Daniel Morris
This recording was accomplished in a number of sessions, over a two year period. While the choir performs and records with a maximum of 24 voices, the list above is larger, reflecting the reality of normal changes in personnel over the four recording sessions of this project.
Acknowledgements
Recording engineer, editing: Ed Marshall
Editing, mastering: Earl McCluskie, Chestnut Hall Music
Producers: Leonard Enns and Sara Martin
Artistic director, conductor: Leonard Enns
Marketing director, choir manager: Sara Martin
Creative direction, graphic designer: Heather Lee, Lee Designs
Recorded at Trillium Lutheran (formerly St. John's Lutheran), Waterloo, ON.
The DaCapo Chamber Choir gratefully acknowledges ongoing support for the NewWorks competition from the Wallenstein Feed Charitable Foundation and funding for this recording from the Ontario Arts Council.