DaCapo's debut CD STILL has received a tremendous amount of critical acclaim.
" Everything about this recording is elegant – the program, the performances, the liner notes, the jacket" ~ Patricia Abbot, anacrusis, Fall 2004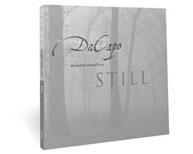 Purchasing STILL
STILL is available to purchase through all major online music vendors, including iTunes, Spotify, Google Play, and more.  Simply search DaCapo Still.
You can also order a CD by mailing a cheque for $20 (plus $3.50 shipping), payable to the DaCapo Chamber Choir.
DaCapo Chamber Choir
PO Box 40035
Waterloo Square PO
Waterloo, ON N2J 4V1
Track Listing
(click on the song title to listen to a portion of the piece)
1. Silent Dawn – Timothy Corlis
2. En Une Seule Fleur from Les Chansons des Roses – Morten Lauridsen
3. The Sunne of Grace – Leonard Enns

• Hand By Hand We Shule Us Take
• Jesu, Swete Sone Dere
• The Sunne of Grace
• I Have Set My Hert So Hie
• All Other Love is Like the Moone
• In Excelsis Gloria
4. The Call – Jeff Enns
5. Benedictus from Missa Brevis – Ruth Watson Henderson
6. Consecration from Requiem for the Victims of Terrorism, op. 398 – Barrie Cabena
7. Ave Maris Stella – Trond Kverno
8. Svyati – John Tavener

9. Lux Aeterna – Edward Elgar
10. The Evening Primrose from Five Flower Songs, op. 47 – Benjamin Britten
Soloists

Lori Gemmell is the Principal Harpist of the Kitchener-Waterloo Symphony and
Orchestra London and a regular player with Le NEM, a
contemporary chamber group in Montreal.
Stephanie Kramer is the voice instructor at Conrad Grebel University College and a member of the Tactus Vocal Ensemble.
John Helmers is the Principle Cellist of the Kitchener-Waterloo Symphony and a member of the Canadian Chamber Ensemble.
Acknowledgements
Producer – Earl McCluskie, Chestnut Hall Music
Recording Engineer – Ed Marshall, Marshall Arts Productions
Editing and Mastering – Ed Marshall
Music Director, Conductor, and Liner Notes – Leonard Enns
Creative Direction – Sara Martin
Art Director/Graphic Design – Heather Lee
Recorded in The Chapel of St. Margaret and St. John, St John's-Kilmarnock School, Breslau, Ontario.
This CD was recorded using 24-bit technology for high-definition sound.
The DaCapo Chamber Choir gratefully acknowledges the funding supportfor this recording from the following organizations:
Waterloo Regional Arts Fund
Conrad Grebel University College
Jim and Lorna Blair Foundation