Our second recording, ShadowLand, has received the 2010 National Choral Recording Award from the Association of Canadian Choral Communities!
The recording features repertoire that is almost entirely Canadian, including Leonard Enns' Juno-nominated Nocturne, Jeff Enns' Moonset, Imant Raminsh's O ignis spiritus, Murray Schafer's The searching sings, and more.  The one non-Canadian work is audience-favourite, Eric Whitacre's When David heard.
"DaCapo has … produced a musical gem; be sure to add this recording to your choral music wish list." – International Choral Bulletin Critic's Pick review, 2011, Vol. XXX, no. 1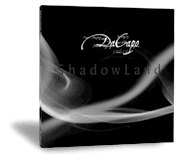 Purchasing ShadowLand
ShadowLand is available to purchase through all major online music vendors, including iTunes, Spotify, Google Play, and more.  Simply search DaCapo Shadowland.
You can also order a CD by mailing a cheque for $20 (plus $3.50 shipping), payable to the DaCapo Chamber Choir.
DaCapo Chamber Choir
PO Box 40035
Waterloo Square PO
Waterloo, ON N2J 4V1
Click here to download an order form.

Reviews
WholeNote magazine (site undergoing maintenance – check back soon)
Track Listing
(click on the song title to listen to a portion of the piece)
1. I Saw Eternity – Leonard Enns
2. When David heard – Eric Whitacre
3. Moonset – Jeff Enns
4. Nocturne – Leonard Enns
5. The searching sings – R. Murray Schafer
6. This amazing day – Leonard Enns
7. O ignis spiritus – Imant Raminsh
Disc Length: 57:04

Acknowledgements
Recording Producer, Editing and Mastering – Earl McCluskie, Chestnut Hall Music
Recording Engineer – Ed Marshall, Marshall Arts Productions
Music Director, Conductor, and liner notes – Leonard Enns
Creative Direction and choir manager – Sara Martin
Art Direction and graphic design – Heather Lee (www.leedesigns.ca)
Recorded at the Church of St. John the Evangelist, Elora, ON.
The DaCapo Chamber Choir gratefully acknowledges the funding supportfor this recording from the following organizations:

Recording Support
Waterloo Regional Arts Fund
Conrad Grebel University College
Good Foundation Inc.
Ontario Arts Council
Commissioning Support
Region of Waterloo Arts Fund for The searching sings
Ontario Arts Council for Nocturne