11/17/2008
The Record
Susan Deefholts
Attending a DaCapo Chamber Choir concert is like embarking on a potent, conceptual journey, thanks to director Leonard Enns's careful selection of pieces, the order in which they are performed and the high quality of the performances themselves.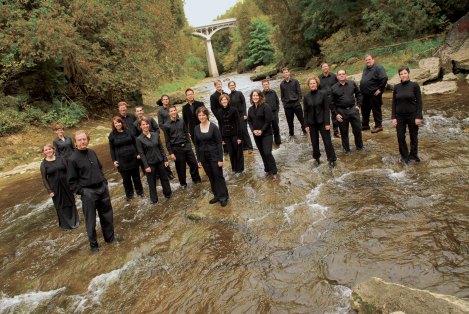 photo taken by Ryan Moffat, Riverstone Photography
The DaCapo choir's first in a trilogy of concerts, which took place at St. John the Evangelist Church Saturday night, centred on the imagery of Earth, both as an encompassing, safe place of final rest and as the source of life and regeneration.
The evening's journey began with grief. The first movement from Cello Sonata No. 1 by Leonard Enns, performed by Ben Bolt-Martin, is a powerful work, bursting with potent motifs of loss and deep, visceral bereavement.
Bolt-Martin's performance embodied the passionate lamentation of the work, which is a response to the tragedy of loss, violence and displacement experienced by those who have suffered during times of unrest and revolution.
The first choral piece of the evening, Frank Ferko's Elegy from Stabat Mater, depicted another kind of bereavement.
In contrast to the vast scope of suffering and grief portrayed in the cello sonata, Elegy's story of loss is deeply intimate and potently drawn.
It is the loss of a parent whose child has died.
The opening is stunning and moving, while the music and words portray a later stage of grief than in the cello sonata, one which has been tempered — very slightly–by acceptance.
Though still infused by a painful depth of loss, the work suggests an imagined resolution: a graceful place of resting and peace for the child who is gone.
John Estacio's Mrs. Deegan featured music that evoked sepia-tinted sunlight and a gracefully mellowed nostalgia for times past. The words are by Val Brandt, and draw a vivid portrait of a "lady with a century of memories."
Here, the loss is as gentle and as wistful as the imagery it evokes, of "three-button gloves" and "dainty Aynsley cups in their dainty China saucers."
Ella Sunlight came next. It's a work that creates a wash of associations and imagery in its mix of lyrical and tonal colouration.
Another luminously powerful piece, it dwelled on a threshold of twilight, moving between the darkness of lamentation and a glowing transcendence, before lapsing back into the sombre colourations of loss. Along with Mrs. Deegan, it makes up two out of Estacio's cycle of four elegies.
The first half of the program also featured John Tavener's Svyati, which is a musical setting of the Trisagion, text that is chanted during Russian Orthodox funerary rites, and Come, lovely and soothing death by James Rolfe, which made evocative use of portions of Walt Whitman's When Lilacs Last in the Dooryard Bloom'd.
The second portion of the program moved away from the theme of grief and of earth as a final resting place, and into the regenerative and birthing aspects of earth. Two vastly different settings of the Magnificat provided a fascinating contrast of interpretation and mood.
The first, by Giles Swayne, was bursting with sound and life, featuring earthy profusions of layered sound, while the second, by Arvo Pärt, featured the transcendent minimalism for which Pärt is so renowned.
It was fascinating to hear the difference in thematic emphasis between the two works.
Morten Lauridsen's O magnum mysterium and Leonard Enns's This amazing day rounded out the evening, which ended on an uplifting, celebratory note.
A reception in honour of DaCapo's 10th anniversary followed, providing a welcome opportunity for the audience to mingle and chat with the evening's performers.
Record Review – Earth