11/07/2008
The Record
Valerie Hill
Leonard Enns finds deep, meaningful connections between nature and music, a connection the Waterloo conductor and composer will convey through his DaCapo Chamber Choir, in a concert entitled Earth.
"Thematically, there are earth, water, air and fire," enthuses Enns, describing the upcoming three-concert season.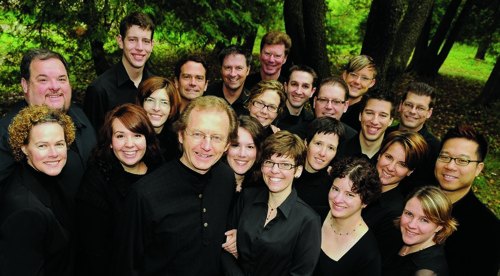 photo taken by Ryan Moffat, Riverstone Photography
DaCapo began 10 years ago, when about a dozen former students at Conrad Grebel College, where Enns teaches and leads the school's choir, approached him with an idea to start a choir under his direction. Their first concert was in Kitchener's St. John the Evangelist Anglican Church, where the choir continues to perform. With Earth, the choral group will also sing some of the same music from that first event: Estonian composer's Arvo Pärt's Magnificat and Gerald Finzi's My Spirit Sang All Day.
The choir, a semifinalist in the recent national CBC Radio Choral Competition, knows exactly how to use music to its best advantage, from powerful crescendos to the lightest of musical subtleties, pulling emotion from the texts though it's often a challenge, given Enns' usual choice of music. "I try to put a lot of thought into the programming," said Enns. "These people work so hard."
Earth features Stratford Theatre cellist Ben Bolt Martin performing a piece by British composer John Tavener, called Svyati, which uses the highly moving text: O Holy God, Holy and Strong, Holy and immortal, Have mercy on us.
Used in the Russian orthodoxy, the piece is chanted with deep feeling whenever a coffin is removed from church for burial. "It's a very beautiful composition for choir and cello," Enns said. The piece is featured on the choir's CD Still, released in 2004.
The Magnificat, also known as the Song of Mary, appears twice in the concert, first the version by Giles Swayne which begins with the opening call of a worksong the composer recorded in Senegal. "It's African work songs, so it's really crazy," Enns said of the music that resonates with a seriousness that, at times, seems disjointed. Even the musical notes describe it as "Stravinsky-like in the jagged rhythms and repetitive patterns." But in fact the work brings together many cultures but mostly, it is in response to the Virgin Mary as she trips down the lane proudly showing off her growing belly holding baby Jesus. The second Magnificat is by Pärt, using a musical technique he created in the 1970s called tintinnabuli (reducing sound "to the point of expressive essence, a stripping away of superfluous," explains Enns.)
Wrapping up the concert is a piece by Enns with text from poet e.e. cummings, celebrating life in a joyous way. Cummings wrote, "I thank you God for this amazing day."
Enns notes, "It's a very hopeful piece."
DaCapo Earth Concert
with special guest, cellist Ben Bolt Martin
St. John the Evangelist Anglican Church, Kitchener
Saturday, Nov. 15, 8 p.m.
Future concerts: Water (March 7); Fire and Air (May 9)