2017-2018 season
Tickets available online (until 4hrs before the performance) or at the door (cash/cheque only).
Adults $25  |  Seniors $20  |  Students $15  | eyeGO & Children $5
(no additional fees for ordering online)
The Colour of Freedom
with special guest… Amir Haghighi, Persian traditional vocalist
Saturday Nov. 11th, 8pm – St John the Evangelist, Kitchener
Sunday Nov. 12th, 3pm – St. John's Lutheran, Waterloo
Reincarnations
with special guest… Catherine Robertson, piano
Featuring the premiere of the 2017 NewWorks winner!
Saturday March 3rd, 8pm – St John the Evangelist, Kitchener
Sunday March 4th, 3pm – St. John's Lutheran, Waterloo
Buy Tickets
Program:
Barrie Cabena –excerpts from Requiem for the Victims of Terrorism
James Rolfe – Shadows
Nicholas Kelly – The Immortal (premiere) NewWorks 2017 Competition winner
Leonard Enns –  Aperi, Domine, os meum
Lavinia Kell Parker – Songs are Thoughts
Samuel Barber – Reincarnations
René Clausen – Tonight, eternity alone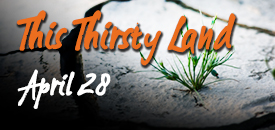 This Thirsty Land
with special guests… Orpheus Choir of Toronto (dir. Robert Cooper) plus oboe soloist and string orchestra
Saturday April 28th, 8pm – St. John's Lutheran, Waterloo
Buy Tickets
Program:
Leonard Enns –  This Thirsty Land (combined choirs, with solo oboe & string ensemble)
Bruce Sled – Shimmering Water / Ice / Reflections
Hussein Janmohamed – Sun on Water
Trond Kverno – Ave Maris Stella
plus selections by the Orpheus Choir of Toronto
About the 2017/18 DaCapo Season
~ from director Leonard Enns
While the personal and political workings that relate to war, peace, and the conditions of inclusion and exclusion are seen to be the domain of people, policies and programs tailored for the task, we hold that art remains necessary, and can serve to leaven this work. In fact, for us it not only can do so, but must. Our music-making may not stand in isolation of ongoing personal and global challenges, but rather, at best, it will contribute to the tasks of sensitizing people to each other's situations, to humanizing and breaking down prejudice, and to re-assembling hope. These are possibly unreachable goals, but they remain our intention.
It is from this commitment that our November 2017 program begins a three-year series of concerts whose programmatic themes grow from and speak to the ongoing global refugee crisis. Each year will have its own overall general theme:  this year, displacement; next year, resettlement; and the third year, renewal.
This year, our first two concerts (November and March) relate to personal and political realities behind, and stemming from, the issue. The November concert will feature a return visit of Persian Canadian vocalist Amir Haghighi, in Colour of Freedom by Iman Habibi, in this work that stunned and deeply moved both singers and audience when DaCapo performed it five years ago with Amir. The March concert will include the premiere of the current DaCapo NewWorks competition winning work, The Immortal, by Canadian composer Nicholas Kelly. Kelly has set a text by Marjorie Pickthall, to create a composition that represents, in his words, "progression from bleakness to transcendence"; this, surely, mirrors the aspiration that motivates many a refugee.  Our final season concert in April (jointly with Orpheus Choir of Toronto) is inspired by environmental realities that often impact or even cause the refugee situation, with the featured work focusing on the increasing lack of (access to) potable water, and metaphorically lamenting the dryness of the human spirit, using texts by Aeschylus, St. Francis, T.S. Eliot, and George Whipple. The half-hour composition, This Thirsty Land by Leonard Enns, was commissioned by the University of Guelph, with the request that its theme be issues related to water.
We intend this to be a moving, rewarding and thought-provoking season, and hope you will join us for each concert.